What is the difference between a Silk Press and a Keratin Treatment? Which is better?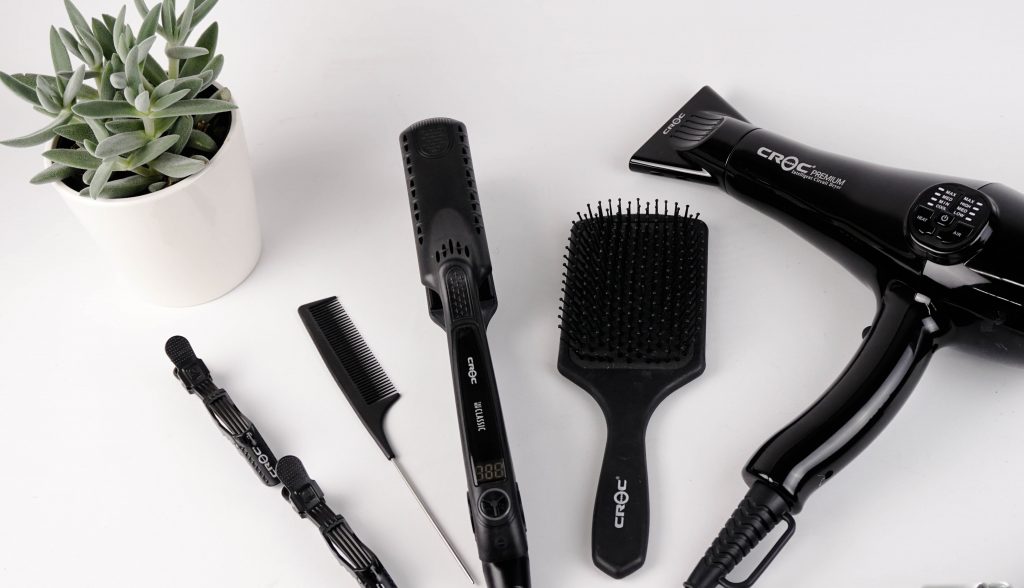 There is a considerable amount of people who aren't quite sure about the differences between a Silk Press and a Keratin Treatment, especially being in Lagos, Nigeria where these services are getting more and more popular. I hope after this post you'll understand the differences clearly or at least be enlightened.
First of all, none of these treatments are in any way related to a relaxer service. They are not permanent and if done correctly (with the right products), they will not damage your hair.
What is a Silk Press?
A Silk Press service is essentially just having your natural Afro hair straightened. The term 'Silk Press' is coined from America (as far as I know) because it is just a way to separate the service from the traditional blowdrying and straightening. I wouldn't say straightening i.e. relaxed hair is the same as straightening Afro hair. First of all, you will always notice that it takes longer. Secondly, there is a technique to it because you are using more tension as you want it to last. With the Silk Press service, it involves a few steps such as cleansing the hair properly, conditioning (I highly recommend deep conditioning), blowdrying and straightening the hair. Depending on your hair, it may also involve wrapping the hair with a plastic cap or cling film and putting you under the hair dryer for a few minutes to give it some body.
How long does a Silk Press last?
This is another question I get asked almost all the time. The honest answer is: it varies. I know many would love their Silk Press to last for weeks and weeks but quite frankly, it depends on your hair type. Most of my clients have their Silk Press last for at least 2 weeks, and some even 4-6 weeks! However, there are also some clients whose Silk Press do not last more than 1-2 days (generally, this is just the roots reverting rather than the whole head). If this is you, then this is where you may want to start considering the Keratin Treatment.
What is a Keratin Treatment?
A Keratin Treatment is simply a process that shields the hair from humidity to reduce frizz, which makes the hair smooth and softer. If the Keratin Treatment contains formaldehyde (a chemical that can be found in some relaxer products), then it will loosen your curl pattern. We use the AROSCI system for our Keratin Treatment here at TAUPE, which is formaldehyde-free.
A little science: you have 3 layers in a hair strand (as seen in the diagram below):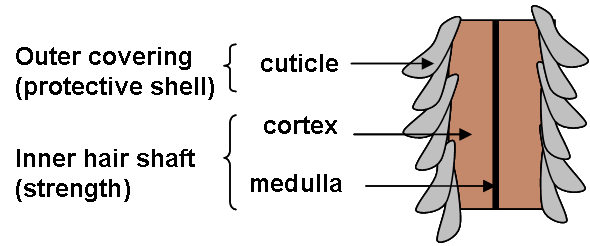 The cuticle, the cortex and the medulla. Your hair cuticle acts as a shell to protect your hair, so that is why when you're told by your stylist to have regular deep conditioning treatments, it is because we want your cuticle to stay intact (flat). A Keratin Treatment only penetrates the cuticle (this is why your hair is washed prior to the treatment, which opens your cuticles), leaving the cortex intact. In other words, a Keratin Treatment just smooths the cuticle, which is the outer layer of your hair. The treatment blocks humidity, which is why when you then use any hot tools to blowdry or straighten, it remains smooth and frizz-free.
Fun fact: Hair is made up of keratin, hence why a Keratin Treatment (when done correctly) is not harmful to the hair – it can actually strengthen the hair.
A Keratin Treatment can last from 3 to 6 months, depending on how often you wash your hair. This treatment should not alter your curl pattern. If your hair is permanently altered then usually this means you have some sort of heat damage or you have used a treatment that contains formaldehyde. The Keratin Treatment is about a 3 hour process, while a Silk Press takes just up to an hour to complete.
So what is the difference between a relaxer and a keratin treatment then?
A relaxer changes the structure of your hair. It penetrates into the cortex, which means it stays there permanently – it will loosen your curl pattern significantly. The Keratin Treatment only sits on the surface of the hair and makes it smooth because it is not a harsh treatment and is semi-permanent. That is why you can still wear your hair in its natural state but it will be with less frizz. It is also why when you then do a Silk Press (on Keratin-treated hair), it will last far longer and it will remain silky and soft. I particularly recommend this treatment for women who have kinky and/or very frizzy hair but love their blowdry very smooth or prefer to keep their hair straight for a lengthy period of time, because it will reduce the frizz dramatically (especially in this Lagos heat) and their blowdry or Silk Press is much easier to maintain and lasts much longer.
Okay, got it. Now what would you recommend I do?
My answer is that it depends on your lifestyle. If you aren't open to change and you prefer to have your hair straight only for a couple of days to a couple of weeks, then a Silk Press is the best option for you. It is also more cost effective, if that is a deciding factor for you. However, if you have Afro natural hair and you prefer your hair straight most of the time but don't want the option or maintenance of a relaxer, then a Keratin Treatment would probably be better for you. Keep in mind, the Keratin Treatment does require some form of maintenance just like any other service so it is important that you are on top of your hair care routine.
TAUPE offers all of the services mentioned above, so feel free to book a consultation with us to find out what will be best for your hair specifically, but I hope this has given a lot more insight and you now understand the differences. Ultimately, I say do what works for you (as long as you keep your hair healthy), because as I always say – "it is just hair".